The event gathered 90 domestic and international brands and 3,500 qualified visitors. The next edition will take place from June 25 through 27, 2019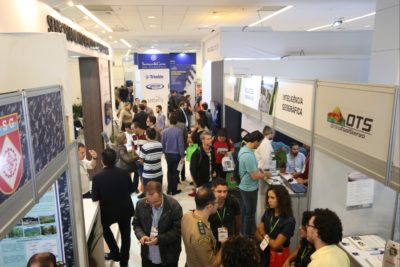 Gathering some of the biggest players in Brazil's Geotechnological market, Mundo#GEOConnect and DroneShow 2018, the largest fair in the sector of Geotechnology and Drones in Latin America and one of the biggest in the world, showed in three days the greatest market launches and novelties besides presenting the latest trends.
The event hosted 3,500 attendees who walked through the corridors of the Frei Caneca Exposition Center in São Paulo from May 15 to 17, to get to know the products of 52 exhibitors and their 90 brands, meeting the expectations of growth from the event's promoter.
According to Emerson Granemann, general director of MundoGEO#Connect and DroneShow, both events accomplished their missions. "The DroneShow and MundoGEO#Connect presented solutions and products aligned to the 4.0 Industry, as with all sorts of sensors embedded to satellites, manned airplanes, cars, drones and fixed stations. Virtual reality, embedded technology and intelligent software completed the fair along with service providing companies and startups. In the several activities, such as courses, lectures and debates, results were presented as well as trends and an evaluation of the sector supply chain alongside the regulatory agencies in charge of the current legislation. We were very pleased with the results achieved and in 2019 we will keep following the same trend of integrating the two worlds: geo and drones", he evaluates.
Exhibitors and attendees profile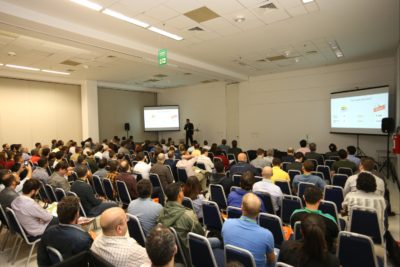 This year the MundoGEO#Connect and DroneShow fairs hosted 52 domestic and international exhibitors – among manufacturers, importers and service providers- accounting for a 20% growth in relation to the previous year. According to the event's general director, there was a total consensus regarding the qualification of the attendance in comparison to the preceding editions. "We had a qualified attendance, 35% from the public sector, 65 from the private, being 57% directors and 43% specialists who came to get to know the most modern and applicable technologies to their businesses. One of the exhibitor's greatest satisfactions is all about that", ensures the event's general director.
Most of the audience came from Brazil's Southeast (65%), followed by the South (15%), Center-West (10%), Northeast (7%) and North (3%). The event's areas of great interest were: Public Management (20%), Mapping (12%), Environment and Natural Resources (7%), Learning and Research (8%), Agriculture and Forestry (11%), Infrastructure (14%), Security and Defense (4%), Professional Imaging (6%) and others (18%). The MundoGEOConnect and DroneShow also had seminars, courses and debates. Totaling 35 activities throughout 170 programmed hours. The next encounter has already been scheduled from June 25 through 27, 2019.