The largest event in Latin America and Top 5 worldwide highlights the role played by Drones and Geotechnologies in the 4.0 Industry. Updating, networking and business generations will dominate the events DroneShow and MundoGEO Connect 2019
You can save the date: June 25 through 27 will take place in São Paulo (SP) the events DroneShow and MundoGEO Connect 2019, the largest in Latin America and Top 5 worldwide in the sector.
Aligned with the global trends and focusing on regional reality, the general theme of the DroneShow and MundoGEO Connect 2019 will be 'Drones and Geotechnologies in the 4.0 Industry'.
The contents of the courses, lectures and debates are currently being produced by a team comprised of 32 curators to meet the demands of companies, professionals and users, mainly in the sectors of Agriculture, Smart Cities, Digital Governance, Infrastructure, Environment, Natural Resources, Safety and Defense.
Also, they will feature disruptive technology hot topics such as Big Data, Artificial Intelligence/Machine Learning, Internet of Things, Virtual Reality, Augmented Reality, BIM, Autonomous Technology and others. All of them becoming more and more integrated to Drones and Geotechnologies (Mapping, Registration, Satellite Imaging, Geographical Intelligence, GIS).
The DroneShow and MundoGEO Connect 2019 websites gathered a team of curators helping to design in an innovative manner the event contents. The format and deadlines are yet to be announced this year to submitting works, startups kinds of participation and the complete list of novel courses and the additional activities of the fair.
The contents, fair and activities of this event are dedicated to three kinds of target public: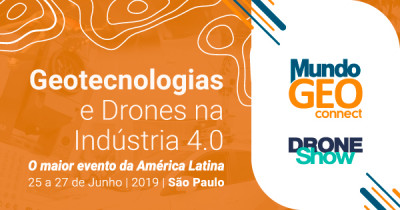 • Professionals involved in collecting, storing, processing, sharing and analysis of the information for management and decision-making.
• Public/private managers needing to get to know about trends and main demands to be met by such information and systems to improve the performance of their activities.
• Professionals from the supply chain sector searching for integration with regulating organs and with the buyers/contracting parties of the technology of public/private sectors and academia.
• Besides covering the supply chain of the sector, the event is organized for service providers in general who decided to incorporate surveying and drones to increase their productivity and meet their customer needs.
Testimonials:
MundoGEO Connect and DroneShow 2018
The previous edition of the MundoGEO#Connect Conference and Fair took place in São Paulo, on May 15-17, 2018 and gathered specialists, researchers, users and entrepreneurs from numerous countries in the region and also from other continents. Attendance accounted for more than 3.500 participants and 80 speakers. The fair gathered 52 exhibitors and 90 Brazilian and international brands in the geospatial technologies and drone fair.
The positive results gathered in the survey with the participants also indicate the response to the event proposal, in which 95% approved it. Other data show that the participants profile was formed by 35% in the public sector and 65% in the private secto. Occupations varied from directing and management positions with 58%, technical sector 32%.
Highlights from MundoGEO Connect and DroneShow 2018: