Phase One Industrial, a world-leading provider of medium format metric cameras and imaging solutions for aerial applications, today announced that it has signed an agreement with AI-Survey GmbH, a developer of UAS survey package, services and tailor-made solutions.
Together, these companies' high-end products are opening up new opportunities in drone-based high-accuracy mapping and inspection markets.
Under this agreement, AI-Survey will support Phase One Industrial's iXM range of cameras in the UAV market for high-accuracy mapping and inspection. AI-Survey offers fast and efficient, simple and reliable UAS solutions tailored for geodesists with millimetre imaging results.
"Our cameras exemplify AI-Survey's mission to optimize, increase efficiency and inspire UAV mapping and inspection missions. As an industry leader, we are confident that they will help our strategic efforts to evolve the industry through innovative solutions using Phase One Industrial technology".

said Dov Kalinski, CEO, Phase One Industrial
Carsten Rudolph, Managing Director, AI-Survey explains:
"We have developed long-term relationships and collaborations with many global technology partners, like Phase One Industrial. As an independent solutions provider, with such a large international network at our disposal, we are free to offer the best possible solutions to meet our customer needs and achieve their required accuracies. With Phase One iXM cameras, we now have the best global sensor for UAV mapping available, we believe"
Innovative Solutions for Vertical Markets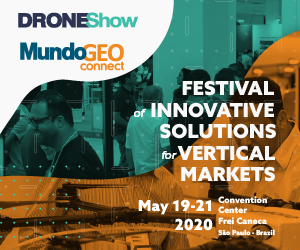 Registrations are now open for early payment with discount in the DroneShow and MundoGEO Connect 2020, which will take place on May 19 through 21 in the Frei Caneca Convention Center, in São Paulo (SP), with the main theme Innovative Solutions for Vertical Markets. Find our complete program and save your place right now!
DroneShow and MundoGEO Connect 2020 will be an actual festival of attractions: arenas with innovative presentations; basic and advanced courses; seminars and thematic forums; room for experimenting 3D technologies; awards for the best projects.
In parallel to these activities there will be a fair with the main companies in the sector. Check the ones already booked in the fair. Check the summary of the previous event:
Image: Pixabay