A postdoctoral fellowship is offered at the Brazilian National Institute for Space Research (INPE), Sao Jose dos Campos, SP, Brazil, to analyze social dynamics and conduct participatory processes to build plausible and desirable scenarios and indicators, conceived from the perspective of a "vision of a sustainable future" and the United Nations Sustainable Development Goals in the Brazilian Caatinga and Cerrado biomes, as part of the Nexus project "Transition to sustainability and the water-agriculture-energy nexus: exploring an integrative approach – Cerrado e Caatinga biomes study cases" (http://nexus.ccst.inpe.br).
The selected candidate will have a central role in this integrative and interdisciplinary project, involving several research centers and universities.
Activities include literature review, followed by field study to identify: important actors and conflicts in the water-agriculture-energy nexus, power relations and possible limits on participation in different contexts and geographical scales. These, later, will subsidize the realization of workshops of scenarios and participatory indicators on multiple scales.
We seek professionals with a doctorate degree and knowledge in Social Sciences / Human Ecology or related areas, fundamentally valuing previous experience with participatory approaches, analysis of socio-environmental dynamics and/or construction of scenarios in socio-ecological systems. The opportunity is open to citizens of all nationalities, with a doctoral degree obtained less than 7 years ago.
Scholarship: post-doctorate FAPESP with a monthly amount of R $ 7,373.10 for 24 months
More information on FAPESP standards: http://www.fapesp.br/en/5427;
http://www.fapesp.br/en/5100.
Requirements:
Ph.D. in Social Sciences, Environmental Sciences or interdisciplinary
Fluency in Portuguese and English
Demonstrated ability to publish scientific articles
Previous experience with participatory approaches and ethnography
Desirable
Experience with analysis or construction of scenarios in socio-ecological
systems;
Analysis of social networks.
Knowledge about the Brazilian semiarid region
*Application: *send until February 16, 2020, e-mail with the title "PD FAPESP NEXUS" to nexus.cocst@inpe.br, with the following documents attached in PDF format:
1 – short presentation letter, describing qualifications and scientific interests
2 – short CV
3 – indication of 2 names for personal references
4 – link for personal profiles in Research Gate, Google Scholar or Academia.edu, if available
Innovative Solutions for Vertical Markets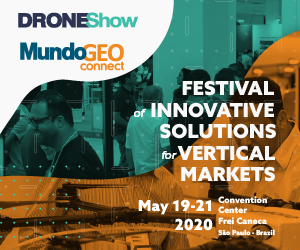 Registrations are now open for early payment with discount in the DroneShow and MundoGEO Connect 2020, which will take place on May 19 through 21 in the Frei Caneca Convention Center, in São Paulo (SP), with the main theme Innovative Solutions for Vertical Markets. Find our complete program and save your place right now!
DroneShow and MundoGEO Connect 2020 will be an actual festival of attractions: arenas with innovative presentations; basic and advanced courses; seminars and thematic forums; room for experimenting 3D technologies; awards for the best projects.
In parallel to these activities there will be a fair with the main companies in the sector. Check the ones already booked in the fair. Check the summary of the previous event:
Image: INPE