Esri, the global leader in location intelligence, announced that it will be expanding its existing partnership with Infogroup to make its rich, high-quality business and consumer data available through Esri's ArcGIS Marketplace. Previously, these datasets could only be used through Esri's ArcGIS Business Analyst.
Access to Infogroup data within Esri's ArcGIS Marketplace enables users to perform geospatial analytics related to site analysis, supply and demand trends, market assessment over time, emergency planning and public safety, consumer purchasing behavior, and environmental trends.
By utilizing Infogroup's proprietary data assets, Esri customers will now have access to new market-wide insights, including the following:
Monitoring of business status, like openings and closings
Real-time data updates
Custom data processing and hygiene of client records
Consumer transactional information
Custom modeling
"Esri has been a valued partner for many years. We are thrilled to work together to create solutions that will not only offer clients more unique products but will provide the business intelligence that helps them maintain a competitive advantage in today's evolving industry"

said Bob Toth, senior vice president and general manager, Infogroup Data Licensing
Infogroup's datasets include information collected from online and corporate services, phone surveys, third-party surveys, and crowdsourcing. The accuracy of the data is verified by Infogroup, ensuring that datasets are up-to-date and able to support multiple extended, unique, and new workflows.
"Infogroup continues to move forward in helping customers with acquisition, intelligence, and product enhancement. With this vision in mind, our partnership with Esri is vital as we continue to focus on creating groundbreaking solutions that enable our customers to make smarter decisions in real time"
To learn more about business data from Infogroup and Esri's extensive data and location services portfolio, visit go.esri.com/business-data.
Innovative Solutions for Vertical Markets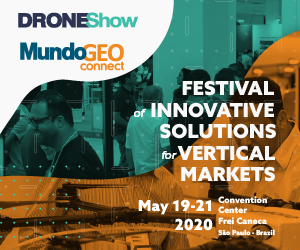 Registrations are now open for early payment with discount in the DroneShow and MundoGEO Connect 2020, which will take place on May 19 through 21 in the Frei Caneca Convention Center, in São Paulo (SP), with the main theme Innovative Solutions for Vertical Markets. Find our complete program and save your place right now!
DroneShow and MundoGEO Connect 2020 will be an actual festival of attractions: arenas with innovative presentations; basic and advanced courses; seminars and thematic forums; room for experimenting 3D technologies; awards for the best projects.
In parallel to these activities there will be a fair with the main companies in the sector. Check the ones already booked in the fair. Check the summary of the previous event:
Image: Pixabay