Secure your ticket right now to the largest event of Drones and Geolocation in Latin America!
You can already save the date: from 25 through 27 of June the events DroneShow and MundoGEO Connect 2019 will be taking place in São Paulo. Such events, besides being the biggest in Latin America, are also among the Top Five worldwide in the sector.
Great domestic and international brands in geospatial technology and drones have already confirmed their presence, such as Airbus, DigitalGlobe, DJI, EMLID, EOS, Flyability, Garmin, Geodetic, Hi-Target, Horus Aeronaves, Kolida, Leica Geosystems, MDA, Micasense, Novatel, Parrot, Pentax, Pix4D, Planet, RapidEye, Restec, Riegl, Sensefly, Spectra Geospatial, Topcon, Trimble, Urthecast, Xmobots, among others.
"In the fair, it will be presented several platform solutions and embedded sensors for collecting data through satellites, manned aircrafts, terrestrial stations, mobile mapping, drones, as well as processing systems, information analysis, visualization and sharing", states Emerson Granemann, MundoGEO's CEO.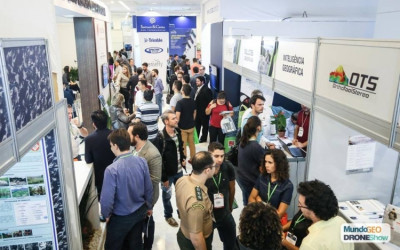 Registrations to attend the fair already available.
Benefits from attending the DroneShow and Mundo GEO Connect fairs:
• Visiting all booths of the fair (opening hours from 10am to 7h30pm)
• Free access to the Inaugural Seminar: Geolocation & Drones in the 4.0 Industry, on June 25th, in the morning
• Watching the contents presented in the Arena
• Watching the parallel events in the free access auditoriums
•Digital Certificate of attendance
Drones and Geotechnologies in the 4.0 Industry
Aligned with the global trends and focusing on regional reality, the general theme of the DroneShow and MundoGEO Connect 2019 will be 'Drones and Geotechnologies in the 4.0 Industry'.
The contents of the courses, lectures and debates are currently being produced to meet the demands of companies, professionals and users, mainly in the sectors of Agriculture, Smart Cities, Digital Governance, Infrastructure, Environment, Natural Resources, Safety and Defense.
Also, they will feature disruptive technology hot topics such as Big Data, Artificial Intelligence/Machine Learning, Internet of Things, Virtual Reality, Augmented Reality, BIM, Autonomous Technology and others. All of them becoming more and more integrated to Drones and Geotechnologies (Mapping, Registration, Satellite Imaging, Geographical Intelligence, GIS).
Highlights from the last edition: