The size of mobile mapping market was over $14 billion in 2018 and is predicted to reach $40 billion in 2024, rising with a compound annual growth rate (CAGR) of 15% between the years 2018 to 2024 as per the research done by Global Market Insights, Inc.
The market is driven by the increasing adoption of smartphones and other mobile devices. The traditional mobile mapping systems are expensive due to the need for expensive sensor components.
The advent of mobile devices equipped with remote sensing and positioning capabilities allowed the users to use the mapping applications for navigational purposes. Over the past decade, there has been a significant increase in the number of mobile phone users using navigational applications to get instant driving directions. Many users are also using the mapping services for non-driving directions such as walking, public transportation, and cycling.
This has encouraged the mapping companies to acquire GIS data maps for various location-based services across the globe to enhance the customer experience.
However, the data accuracy concerns associated with the mobile mapping technology are hindering the market growth. The primary basis of classification & abstraction in most of the GIS applications is based on the real-world phenomenon. In most of these applications, users have the option of deciding the amount of information to be used and their classification into multiple categories.
Nevertheless, the users sometimes reduce the accuracy of the mobile applications by misclassifying the information into inappropriate categories.
Innovative Solutions for Vertical Markets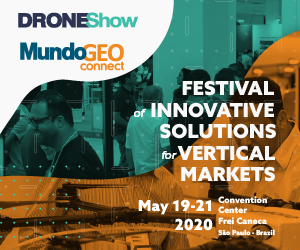 Registrations are now open for early payment with discount in the DroneShow and MundoGEO Connect 2020, which will take place on May 19 through 21 in the Frei Caneca Convention Center, in São Paulo (SP), with the main theme Innovative Solutions for Vertical Markets. Find our complete program and save your place right now!
DroneShow and MundoGEO Connect 2020 will be an actual festival of attractions: arenas with innovative presentations; basic and advanced courses; seminars and thematic forums; room for experimenting 3D technologies; awards for the best projects.
In parallel to these activities there will be a fair with the main companies in the sector. Check the ones already booked in the fair. Check the summary of the previous event:
Image: Global Market Insights