SimActive Inc., a world-leading developer of photogrammetry software, announces a new training program for drone mapping.
The program's goal is to provide educational material and resources on how to effectively process drone imagery, to both neophytes and experts.
The new offering includes educational documents, tutorial videos and monthly webinars as well as tailored training sessions, which can be provided both online or on-site.
All aspects of data processing are covered, such as the generation of DSMs, DTMs, point clouds, orthomosaics and 3D models.
"It is often difficult for drone mapping companies to differentiate themselves from competition and increase their profitability. Our training program allows them be more efficient and competitive, thus maximizing their bottom-line"

said Dr. Philippe Simard, President at SimActive
SimActive is the developer of Correlator3D™ software, a patented end-to-end photogrammetry solution for the generation of high-quality geospatial data from satellite and aerial imagery, including UAVs. Correlator3D™ performs aerial triangulation (AT) and produces dense digital surface models (DSM), digital terrain models (DTM), point clouds, orthomosaics, 3D models and vectorized 3D features. Powered by GPU technology and multi-core CPUs, Correlator3D™ ensures matchless processing speed to support rapid production of large datasets. SimActive has been selling Correlator3D™ to leading mapping firms and government organizations around the world, offering cutting-edge photogrammetry software backed by exceptional customer support.
Innovative Solutions for Vertical Markets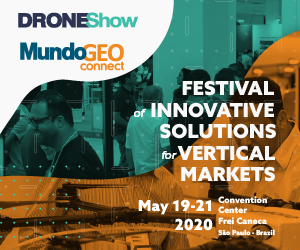 Registrations are now open for early payment with discount in the DroneShow and MundoGEO Connect 2020, which will take place on May 19 through 21 in the Frei Caneca Convention Center, in São Paulo (SP), with the main theme Innovative Solutions for Vertical Markets. Find our complete program and save your place right now!
DroneShow and MundoGEO Connect 2020 will be an actual festival of attractions: arenas with innovative presentations; basic and advanced courses; seminars and thematic forums; room for experimenting 3D technologies; awards for the best projects.
In parallel to these activities there will be a fair with the main companies in the sector. Check the ones already booked in the fair. Check the summary of the previous event:
Image: SimActive