DJI, the world's leader in civilian drones and aerial imaging technology, and AL Drones, Brazil's leader in certification consulting for professional drones, have secured Brazil's regulatory authorization for flight testing the Agras T30 agricultural spraying drone. After successfully demonstrating the procedures to allow safe flight of the Agras T30 agricultural spraying drone certification prototype, DJI and AL Drones received the Experimental Flight Authorization Certificate (CAVE) from the Brazilian National Civil Aviation Agency (ANAC), allowing them to begin flight tests in Brazil for one of the world's most popular agricultural drones.
This key step comes as ANAC is updating its regulations to allow Brazil's farmers to use drones for agricultural spraying operations, such as applying fertilizer or pesticides, sowing seeds, and spreading other agricultural inputs from the air. Aerial spraying with drones is proving to be a faster, safer, more efficient and more effective way to treat crops than traditional ground-based methods, allowing farmers to deliver those materials more precisely and with less hands-on contact with chemicals. With ANAC's CAVE in hand, DJI and AL Drones are one step closer to earning approval for Brazil's farmers to put the Agras T30 drone into widespread use.
"The AL Drones partnership with DJI for Agras T30 Design Authorization in Brazil will be a milestone in the drone industry, with DJI being one of the first foreign manufacturers to walk the path for Design Authorization in ANAC. This process shows how ANAC's requirements allow the safe development of beneficial drone uses, as well as the relevance of this technology for Brazilian agribusiness"

said AL Drones co-founder André Arruda
Lucas Florêncio, co-founder and partner of AL Drones, added:
"The process is conducted to ensure the safety levels required in a spraying operation with a Class 2 Remotely Piloted Aircraft (RPA). In this regard, the moment could not be better, in which ANAC studies the Drone Regulation update applicable to Class 2 spraying drones. This will allow the growth and scalability of operations".
The Agras T30 model, the flagship of DJI's agricultural line of spraying drones, is categorized as a Class 2 RPA according to ANAC Regulation, with a Maximum Takeoff Weight of 73 kg, which makes it one of the largest spraying drones available on the market. The heavy-weight drone includes a high payload capacity, being able to carry up to 30 kg of substances for spraying operation, or 35 kg for spreading operation.
The drone has a 16-nozzle layout, which improves droplet settlement and increases spraying width to 9 meters. It is capable of covering 40 acres per hour, 33.3% more than the previous generation .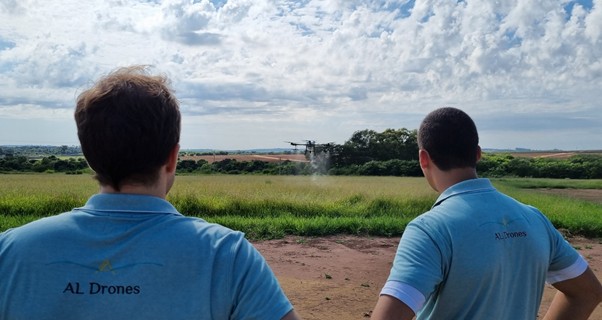 Rigorous and pioneering process
The process for obtaining the CAVE involved rigorous work with the ANAC team to demonstrate the safety of the operation with the T30 prototype that will undergo flight testing. For this, a series of technical data are required for technical analysis conducted by the Agency, such as: prototype information, remote pilot station (RPS), operational risk analysis, technical drawings and operations manual .
In order to obtain the CAVE, Brazilian aeronautical registration marks were reserved for the prototype that will carry out flight testing, as part of Design Authorization process. The Agras T30 prototype received the PR-DJI registration, carrying DJI's name in its registration number. This specific drone underwent a technical inspection at ANAC and was inspected by the Agency's engineers at the headquarters in São José dos Campos (SP) .
The issuance of CAVE is laid down in Requirement E94.503 of the Brazilian Civil Aviation Special Regulation RBAC-E No. 94 and the process takes place in accordance with the requirements of Supplementary Instruction – IS No. E94.503-001 Rev B. DJI is one of the first international manufacturers seeking the process within ANAC, as Design Authorization Holder in Brazil.
"At AL Drones, we prioritize carrying out ANAC Design Authorizations in partnership with manufacturers. In this regard, DJI will remain the holder of the Design Authorization, enabling all operators and users in the country to fly the Agras T30 according to Brazilian regulations. This guarantees a successful product for the Brazilian market, to be authorized at ANAC with all the support and know-how from the drone manufacturer".

explained Arruda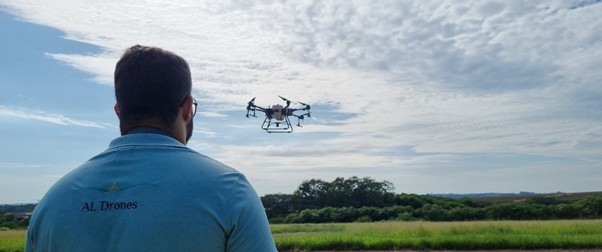 Scalability goes through Class 2 drones
Obtaining the Agras T30 CAVE comes at a time when the use of drones for spraying is about to scale significantly. This is because ANAC is preparing a specific regulation for the sector, including the Design Authorization and operation of Class 2 Spraying drones, at a maximum height of 30 meters, within the visual line of sight (VLOS or EVLOS), at a maximum distance of 1 km from the pilot or observer. The new regulation is in the process of Public Consultation and should be concluded soon .
In addition, in 2021 the Brazilian Ministry of Agriculture, Livestock and Food Supply (MAPA) had already published specific rules for the operation of drones intended for the application of pesticides, fertilizers, adjuvants, inoculants, correctives and seeds. With this, Brazil steps forward as a country with clear regulations that guarantee the safety of operations for crop spraying drones and increase of agribusiness productivity .
In this regard, AL Drones, the pioneer Engineering & Consulting Company for professional drones in Brazil, has been contributing to drone sector by leading Design Authorizations at ANAC since 2017, counting with six authorized drone models for BVLOS flights, in addition to the ongoing certifications. This performance makes the Company a key player in drone certification and drone flight safety .
"Every (drone certification) process is led by a team of experienced engineers and pilots from Aviation Industry, having worked in flight testing, aircraft operation and certification at Companies such as AIRBUS, EMBRAER and LATAM Airlines".

Arruda said
As the crop spraying drone market continues to grow in an increasingly regulated environment, the first Agras T30 CAVE Certificate opens the way for ANAC Authorization and promises a brilliant future ahead for DJI in the Brazilian agribusiness .
For additional information, please contact:
DJI: Efren Zhang, DJI Agriculture Sales (Brazil) – Efren.zhang@dji.com
AL Drones: André Arruda, AL Drones Co-Founder – Contato@aldrones.com.br
About DJI
DJI is a global leader in developing and manufacturing civilian drones and aerial imaging technology for personal and professional use. DJI was founded and is run by people with a passion for remote-controlled helicopters and experts in flight-control technology and camera stabilization. The company is dedicated to making aerial photography and filmmaking equipment and platforms more accessible, reliable and easier to use for creators and innovators around the world. DJI's global operations currently span across the Americas, Europe and Asia, and its revolutionary products and solutions have been chosen by customers in over 100 countries for applications in filmmaking, construction, inspection, emergency response, agriculture, conservation and many other industries .
For more information, visit:
Website: www.dji.com 
Online Store: store.dji.com/
Facebook: www.facebook.com/DJI
Instagram: www.instagram.com/DJIGlobal
Twitter: www.twitter.com/DJIGlobal  
LinkedIn: www.linkedin.com/company/dji
About AL Drones
AL Drones is a leader in drone certification in Brazil. The company provides engineering and consulting services dedicated to professional drones. Driven by transformational power of this technology, AL Drones exists to expand the edge of UAS operations in Brazil. The company has achieved the first BVLOS approvals inside Brazilian Airspace and has obtained the Design Authorization for six different unmanned aircraft models at the Brazilian National Civil Aviation Agency (ANAC). AL Drones leads aeronautical certification for professional remote aircraft on package delivery, field mapping, crop spraying and perimeter security.
For more information, visit the website https://aldrones.com.br.
DroneShow 2022
AL Drones will an exhibitor at the trade fair DroneShow 2022, from May 17 thru 19 at the Frei Caneca Convention Center in São Paulo, SP, Brazil.