Each year, NASA scientists, engineers, and developers create software packages to manage space missions, test spacecraft, and analyze the petabytes of data produced by agency research satellites. As the agency innovates for the benefit of humanity, many of these programs are now downloadable and free of charge through NASA's Software Catalog.
The 2023-2024 Software Catalog contains more than 1,000 programs, including dozens of new packages added this year.
Among the 15 different categories of NASA software available through the catalog is environmental science. Whether it means helping farmers navigate crop-destroying droughts, tracking deadly storms such as hurricanes and tornadoes, or mapping floods, fires, and more, NASA's fleet of Earth-observation satellites allows an "eye-in-the-sky" advantage to spot events, features, and long-term trends on our ever-changing planet.
"By making our innovations available to the public, we fulfill our goal of helping NASA's research and technology development find new uses beyond space exploration," said Daniel Lockney, program executive for the agency's Technology Transfer program at NASA Headquarters in Washington.
"We're proud to make NASA software more accessible through our easy-to-use website, and we are dedicated to continuing this 'customer-service' approach to software release."
Among the environmental science software included in the catalog are: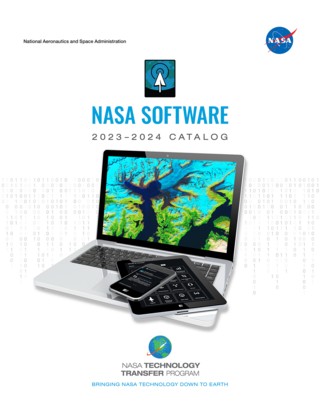 A popular modeling software that provides values for atmospheric parameters, such as temperature and winds, for any month and location in Earth's atmosphere
A geospatial system for disaster response using low-cost hardware such as digital cameras or cellphones
A cloud-based toolkit that allows collaboration among researchers in Earth science
An algorithm to accurately forecast lighting strikes
A framework that combines maps with satellite-based rainfall estimates to identify potential landslide hazards
A platform built for interactive browsing of near-real-time satellite imagery to help with time-critical scenarios such as wildfires or flooding
NASA scientists and software experts, who use satellite data and more to better understand Earth, will be available to answer questions about free agency resources at 12 p.m. Wednesday, Aug. 16, during a Reddit "Ask me Anything."
To complement the Software Catalog, NASA's Technology Transfer program has also built a Remote Sensing Toolkit. The web-based set of tools helps users find, analyze, and use the most relevant satellite data for research, business projects, or conservation efforts.
Beyond environmental science, the catalog also includes software packages for system testing, aeronautics, business systems and project management, data and image processing, crew and life support, and more.
The Software Catalog is a product of NASA's Technology Transfer program, managed for the agency by STMD. NASA routinely makes improvements to the Software Catalog website, ensuring the process is fast and easy. The program ensures technologies developed by and for NASA are broadly available to the public, maximizing the benefit to American taxpayers.
Access restrictions apply to some software that may be limited to use by U.S. citizens or for U.S. government purposes only.
Review the catalog online at: http://software.nasa.gov.